Venue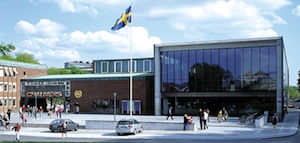 The conference will be held at Campus Johanneberg of Chalmers University of Technology, centrally located in Gothenburg:
As a teaser you can look at a panorama view of Gothenburg. You could also read what Lonely Planet has to say about our city.
Internet at EACL
All universities in Sweden, including Chalmers, provides free wireless Internet access via eduroam. Please make sure that your personal eduroam account is configured before you arrive at EACL, and it will probably just work.
If your institution does not provide you with an eduroam account, or if it for some reason fails to work, we have a limited number of temporary accounts for the conference. But please try eduroam first.
About Gothenburg
Brief history about Gothenburg (Göteborg)
Trade, shipping and international contacts have characterised Gothenburg ever since it was grounded in 1621. In 1731, the Swedish East India Company began trading with the east. In the 19th century, Gothenburg became industrialised, largely due to the arrival of Scottish and English businessmen. Modern-day Gothenburg with its wide boulevards, parks and stone buildings was built towards the end of the 19th century. The shipyards grew large in the 20th century, but declined at the end of the 1970's and are now transformed into residential areas and offices for people to enjoy the harbour atmosphere.
Climate and weather
The climate in Gothenburg is varied, and each season brings its own charm! For weather forecasts close to the congress, please visit www.smhi.se
More information about the city of Gothenburg can be found through www.goteborg.com/en
Travel information
Arriving by plane

Arriving from Landvetter Airport (GOT): You can take the airport coach to Korsvägen, this takes approximately 25 minutes. The bus ticket costs 89 SEK, and you can purchase the ticket on the bus using a credit card or inside the airport terminal. Visit www.flygbussarna.se for more information.
From Korsvägen take tram number 6 (towards Länsmansgården) or tram number 8 (towards Frölunda Torg), exit at Chalmers.
Arriving from Gothenburg City Airport (GSE): You can take the airport coach to Nils Ericsson terminal, which is situated next to the central station, and the trip takes approximately 30 minutes. The bus ticket costs 69 SEK, and you can purchase the ticket on the bus using a credit card. Visit www.flygbussarna.se for more information.
From Drottningtorget, right outside the central station, choose tram number 7 (towards Tynnered), exit at Chalmers.
A taxi from either airport costs 400–500 SEK. There are fixed fees to different parts of the town which is cheaper than going by the fare meter. Service is included in the price. Avoid unlicensed taxis.
Other means of travel
Arriving by train: Look for train connections to Gothenburg either at www.sj.se or www.db.de. From Drottningtorget, right outside the central station, choose tram number 7 (towards Tynnered) and exit at Chalmers.
Arriving by boat: There is regular boat traffic to Gothenburg from Denmark and Germany, operated by Stena Line. For information about time schedules and prices visit www.stenaline.se
Arriving by car: E20 freeway northbound Stockholm/Oslo or southbound Malmö, or road 40 from Borås, or road 45 from Karlstad. Follow the signs to Sahlgrenska Universitetssjukhuset.
Gothenburg has a compact city centre. Almost everything is within walking distance or easy to reach by tram, so you should plan to park your car. As you drive into Gothenburg electronic signs help you find a parking space and show how many spaces are available.
Travelling within Gothenburg
Public transportation
The following trams are operating Chalmers: 6, 7, 10 and 13. In addition, the buses 58, 16, 158 and 753 are operating Chalmers.
You have to buy a ticket in advance since you cannot pay with foreign credit card or mobile phones on board. Trams have vending machines for cash. A single trip (adult) costs 25 SEK and is valid for 90 minutes from boarding. Travelling after midnight costs an additional 25 SEK. There are also different period cards:
24 hours for 80 SEK
72 hours for 160 SEK
5 trips for 97 SEK
You can buy tickets all over the city, including all Pressbyrån kiosks, and at the venue there is Chalmerskiosken. Visit Västtrafik's website for more information: http://www.vasttrafik.se/#!/en
Rent a bicycle
Gothenburg has a rental bike system called Styr & Ställ, with 60 stations around the city, including one just at Chalmers' main entrance. Buy a 3-day card for only 25 SEK. http://en.goteborgbikes.se/Subscription/3-day-Pass
Taxi
There are several companies to choose from. You can phone for a taxi or hail one on the street. The driver should have a taxi ID card clearly displayed in the windshield. Service is included in the price. Avoid unlicensed taxis. We recommend:
Taxi Göteborg +46 (0)31–650 000
Minitaxi +46 (0)31–140 140
Taxi Kurir +46 (0)31–27 27 27
Accommodation
Hotels
The following hotels have reserved rooms for EACL participants. Book accommodation when registering for the conference. All prices are in SEK and includes breakfast and Swedish VAT. See below for information about hostels.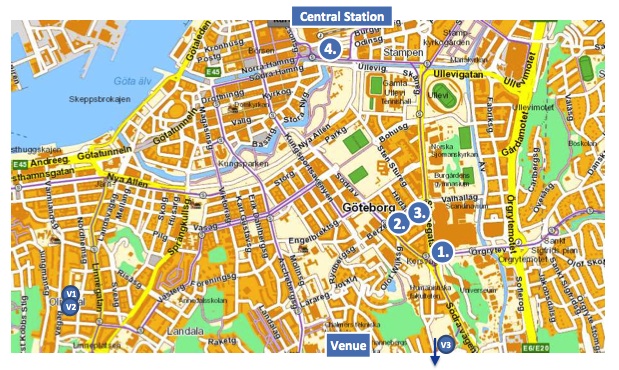 Gothia Towers, Mässans gata 24

Gothia Towers features 704 tastefully decorated rooms, most of which offer magnificent views of the city.
The rooms are well-equipped with comfortable beds, a wide selection of TV entertainment, a delicious breakfast and everything else you might need for an enjoyable stay. The hotel is located in the city centre next to Liseberg and Korsvägen.

Single room: 1090 SEK

Hotel Lorensberg, Berzeliigatan 15

Hotel Lorensberg is a family owned hotel with a pleasant and comfortable atmosphere combined with friendly and accommodating personnel. The hotel is located in the middle of Gothenburg's cultural and entertainment centre. A large part of central Gothenburg is within walking distance from the hotel.

Single room: 900 SEK, Double room: 1150 SEK

Hotel Onyxen, Sten Sturegatan 23

Hotel Onyxen is a charming hotel located right in the heart of Gothenburg. The hotel is within walking distance from Gothenburg's event area with the Swedish Exhibition Centre, Gothenburg Convention and Scandinavium. With a short five minute walk you reach Liseberg, Universeum and Ullevi, and the Avenue, the main street full of shopping opportunities and restaurants.

Single room: 1000 SEK, Double room: 1200 SEK, Superior single: 1200 SEK

Clarion Hotel Post, Drottningtorget 10

Clarion Hotel Post is a large, modern conference hotel with a focus on personal service and an accommodating atmosphere. The stunning architecture of the old post office building is preserved and enhanced by a new and equally spectacular renovation. Clarion Post has Gothenburg's best location, at Drottningtorget (Queen Square) and just steps from the main train station.

Single room: 1150 SEK
Hostels
V1. Vandrarhemmet Linné, Vegagatan 22: www.linnehostel.com
V2. Slottsskogens vandrarhem, Vegagatan 21: www.sov.nu/index.php/en
V3. SGS Veckobostäder, Utlandagatan/Gibraltargatan: www.sgsveckobostader.se/en
Visit the hostels' homepages for rates and booking.
Other useful information
Currency
The Swedish currency is the krona, with EUR 1 = SEK 8.93 (Feb 2014), and USD 1 = SEK 6.49 (Feb 2014).
Credit cards are accepted almost everywhere. You can use the credit card on buses, trams, taxis, restaurants and shopping. The chip and pin is the common method. It is advisable to carry an identity card or some form of photo identification. Cash machines (ATM) are common and accept major credit and debit cards. They can be found in the main shopping centres, the airport and in the main streets.
If you bought an item in Sweden worth more than 200 SEK, and you are flying out of the EU, you are eligible to a VAT refund. Present the goods (unused and with the price tags attached), your passport and ticket/boarding pass, Global Refund receipt and the shop receipt to the customs at the airport.
Electricity
Electrical voltage in Sweden is 220 V/50 Hz. Round; European-style two-pin plugs (Schuko, CEE 7/4) are used. Appliances designed to operate on 110/120 Volts need a voltage converter and a plug adapter.
Emergency number
To call ambulance, police or fire brigade, simply call 112. Main police station, +46 (0)31 114 14 (24 hours)
Banks and post offices
Banks are open between 09.30/10.00 and 15.00 on weekdays. Some banks in central Gothenburg are open from 09.00 to 17.00. Post offices are generally open between 09.30 and 18.00 on weekdays and between 10.00 and 13.00 on Saturdays. Exchange offices can be found at Landvetter airport (International), at the central station and in Kungsportsavenyn, among other places.
Internet
Sweden is one of the countries with the highest Internet usage in the World. Central Gothenburg has a wireless Internet access. In the city centre there are many cafés, hotels and other locations where you can surf wirelessly. There are a number of Internet cafés around the city where you can hire PCs, including the Central station.
Medical services
Emergency healthcare: Capio Axess Akuten, Södra Allégatan 6, +46 (0)31 725 00 75, www.capioaxessakuten.se
CityAkuten, Södra vägen 27, +46 (0)31 10 10 10, www.cityakuten.se
Emergency dental care: Tandvården Göteborg, Akuttandvården, Odinsgatan 10, +46 (0)31 80 78 00.
Tourist information
You will find the Tourist information office at Kungsportsplatsen 2 or in the centre of the shopping mall Nordstaden. For further information please visit goteborg.com. We are very pleased to note that Gothenburg has been awarded second place in Lonely Planet's "Best value destinations". Useful information for all potential delegates visit www.lonelyplanet.com
Restaurants
You will find several restaurants close to the Assembly venue. Service is included in the menu price in Sweden.
Non-smoking policy
Sweden has a non-smoking policy, i.e. smoking is prohibited in public buildings, public transport, taxis, buses and trains.
Time zone
Sweden is in the Central European Time zone, i.e. UTC +2h in summertime.
Visa
Participants needing a visa for entry to Sweden are strongly advised to make their application in their home country and well in advance. If in doubt, information can be obtained from your nearest Swedish Embassy or consulate, or from your travel agency. Useful information for Visa application please visit www.migrationsverket.se/info/140_en.html